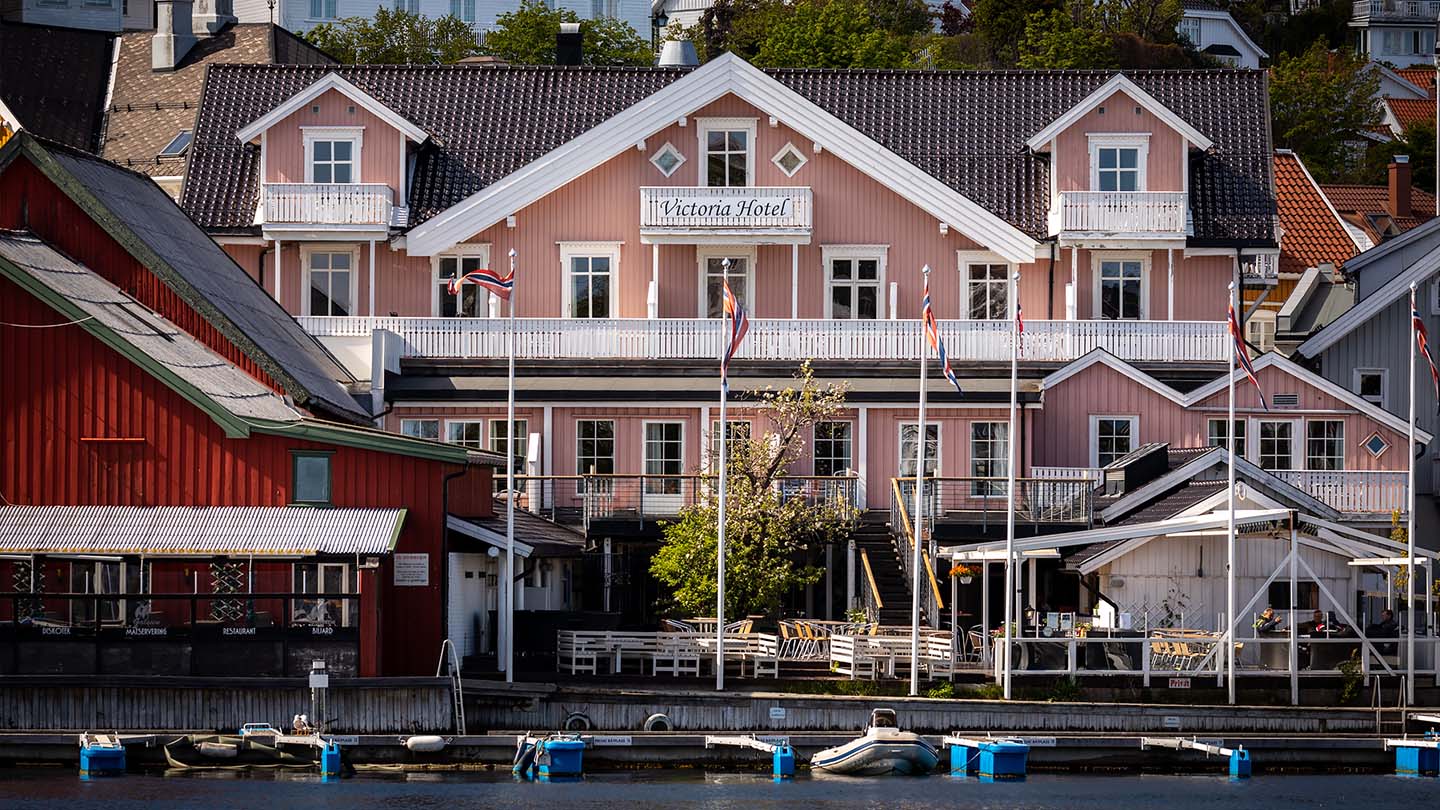 Booking and confirmation: Your booking is active as long as it has been confirmed and you have received a booking confirmation by phone, by email or by the bookingsystem. The booking applies to the number of people stated in the confirmation.
Age limit: To book a room at Victoria Hotel Kragerø, you must be over 18 years old. The hotel may require you to show identification upon arrival, and may refuse you check-in if you cannot show valid identification.
Quiet during the night: The hotel must be quiet between 11.00pm and 7.00am within this period, you must not be responsible for noise or commotion that may disturb other guests. If this is not respected after a warning, it may lead to expulsion from the hotel.

Dogs/pets are allowed in some rooms and apartments
Dogs/pets are allowed in some rooms in the hotel and some apartments in Reptile are not allowed! There is an additional charge for bringing a dog/pet per animals per night. Anyone with a dog or other pets must report this when booking/before arrival. It is not permitted to bring the dog/pet in the hotel's breakfast areas. It is permitted to bring an approved guide dog in the hotel's common areas, but if possible we kindly ask that this be limited to a minimum and that consideration be shown to other guests. Rooms and apartments where pets are present will not be cleaned during your stay. If cleaning/new towels etc. are desired, our staff must be contacted. Do not leave your pet alone for long periods of time. It is not accepted that the pet disturbs neighbors with e.g. barking. This may lead to expulsion. Dogs or other pets must not lie in furniture or beds. It is not permitted to use the hotel's crockery for serving food to the pet. If the hotel is subjected to extra cleaning and/or compensation as a result of damage to the hotel's property, the cost will be charged to the guest.
Cancellation and cancellation: Unless otherwise stated, the booking can be canceled free of charge until 15.00 2 days before the day of arrival. If you do not show up and have not canceled in advance, or you cancel within the deadline, you will be charged the price for the entire stay. If the hotel has incurred costs due to your booking, you must also cover these.
Changes: You can make changes to your booking free of charge up to the day before the day of arrival. The possibilities to change depend on the hotel's availability. You cannot charge the same price for your stay if you were to change to days where the price is higher.
Early departure: If you have booked a stay for a longer period but want to check out earlier than planned, the hotel must be notified at check-in. You cannot claim compensation from the hotel if you change your plans later.
Check-in and check-out: The room is available from 15.00 on the day of arrival. Check-out is by 11.00 on the day of departure. Check-in before, or check-out after, these times may be possible for a fee. Contact the reception and inquire about this.
Liability for damage: You, as a guest, are responsible for damage caused to the hotel as a result of negligence or irresponsible behaviour, and the hotel will demand payment for any rectification of damage and the like. Our rooms are also non-smoking, and guests who violate the smoking ban will be charged NOK 5,000 upon check-out for extra cleaning.
Luggage storage: Your luggage can be stored in a luggage room. The hotel is not obliged to store items of high value for the guests, as this may endanger the safety of guests and staff. The hotel is not responsible for loss or damage to luggage or valuables stored in the hotel room or in the luggage room.
Please get in touch if you have any questions.