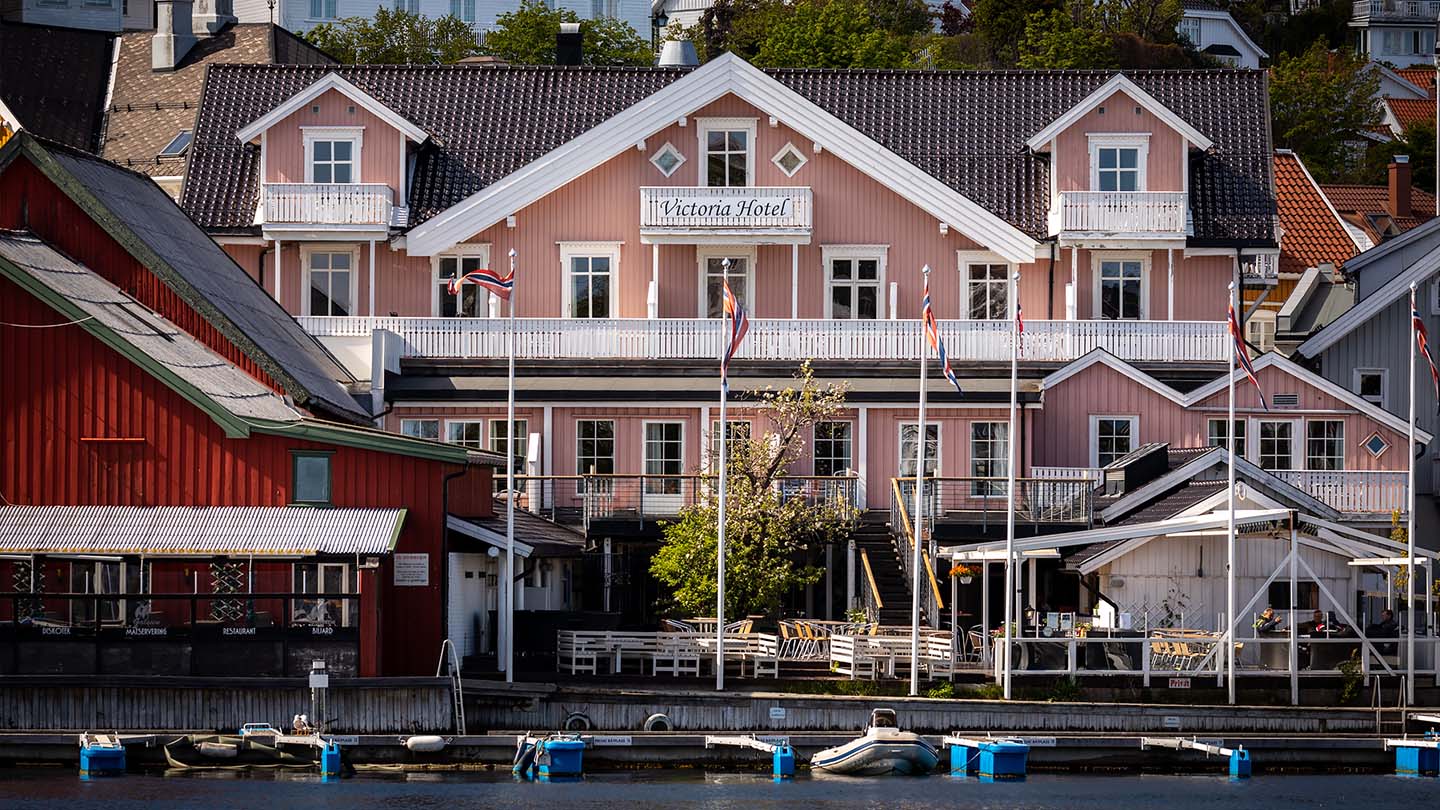 Victoria Hotel in Kragerø was first founded by hotelier Albert Obelin who had previously owned the Grand Hotel in Molde. He was able to welcome new guests to the Victoria Hotel as a first-class hotel with an excellent kitchen right next to the steamship pier in December 1900. The building itself was built as a private residence for Consul Lars Larsen in 1886, but was converted into a hotel in the time before 1900. The building was originally a Swiss-style villa, but has over time been significantly expanded and changed. 
The Victoria Hotel has been in continuous operation from 1900 until today, and the pink hotel has become an important part of the cityscape in Kragerø. The location of the hotel has always been very attractive – in the heart of the city right by the sea. Many of the hotels' guests has enjoyed the fresh air and smell of the ocean, while watching the boats sail into Kragerø. 
Kragerø has a long history of housing artists and the wealthy, and Victoria has had the pleasure of housing its share of them since the opening. The painter Edvard Munch was one of our more famous guests. He especially enjoyed spending time in the garden. His stay with us was the beginning of a much longer stay in Kragerø, where he did many of his paintings. Many critics say some of his finest work was made in that period.  
In modern days there are many who have good memories from the nightclub Cæsar and Vinterhaven, which both used to be a part of the hotel. Today you find the lovely restaurant Haven where the nightclub used to be and Vinterhaven has turned into the hotel's biggest apartments. The hotel has now several owners, and from May of 2021 we are also operating the hotel. We are aware of our responsibility and aim to run the hotel with a long-term perspective with respect for the heritage we manage on behalf of Kragerø